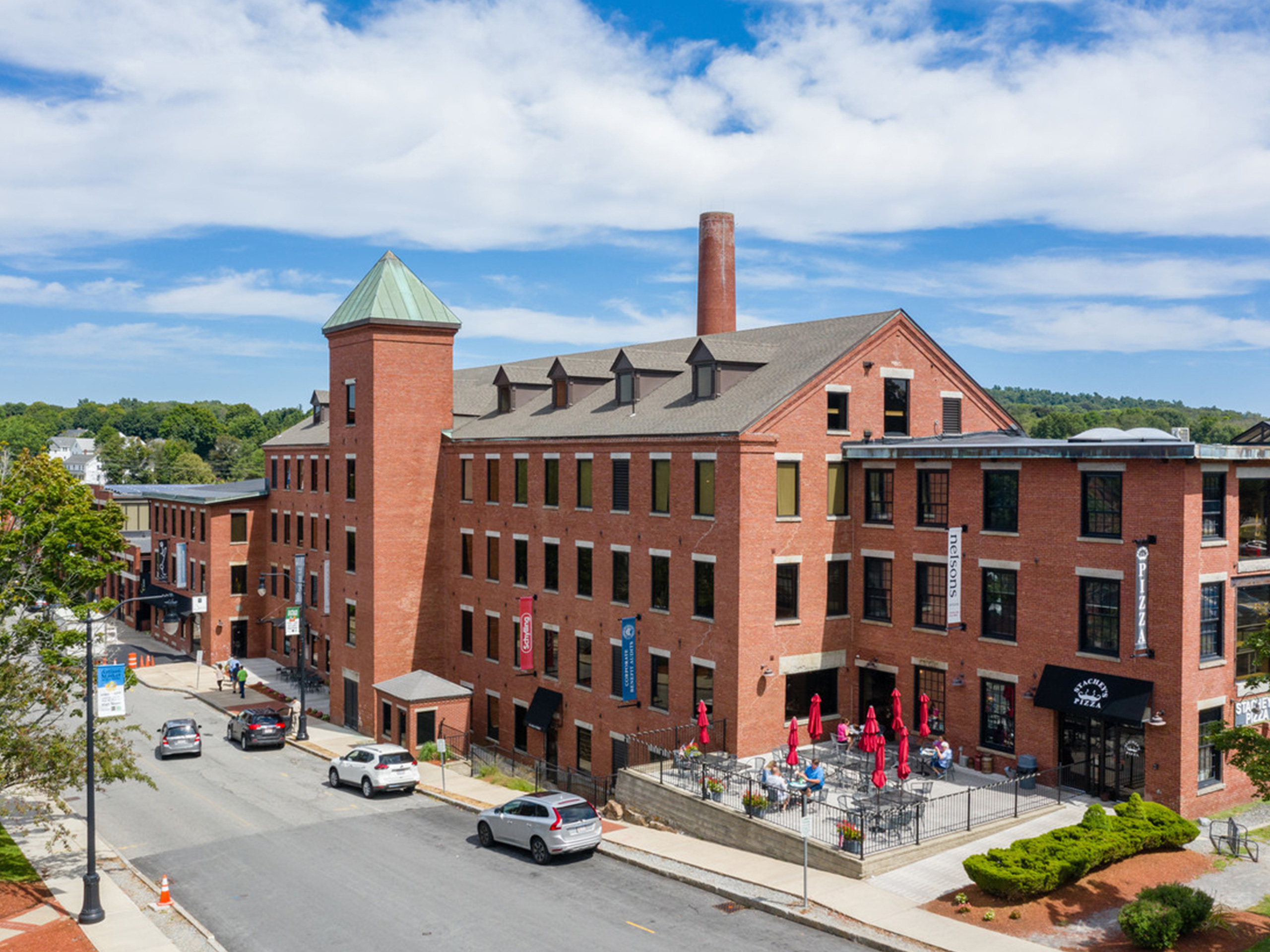 RCG LLC presents Davis & Furber Mills, a mixed use property on the site of the historic Davis and Furber Machine Shop in downtown North Andover. The combined properties boast over 500,000 square feet of renovated brick and beam space serving over 100 commercial users and including 66 loft-style residences. Our campus offers:
• Updated infrastructure, including LED lighting with web-based controls, fiber connectivity for high-speed internet and high efficiency heating and cooling systems;
• Active outdoor spaces including shady courtyards, sunny lawns, and picnic areas looking out over the two adjacent mill ponds;
• Dynamic live/work/play community with fitness, dining, and wellness options on campus and numerous conveniences within walking distance;
• Experienced, professional management team located on-site and available on-call 24-7;
• Ample parking and loading options for visitors and staff, including a 600 space parking garage, several common loading docks and handicapped accessibility throughout
THE LOFTS AT 60 WATER Contemporary loft-style residences featuring exposed brick and beam construction, over-sized historic windows, tile baths, modern kitchens, and in-unit washers and dryers.
EAST MILL LOFTS 27 loft-style residences ranging from luxurious brick and beam units with pond views to studios with concrete floors and open floorplans. All units are non-smoking, pet-friendly, and include access to the West Mill Fitness Center.
100 ELM STREET Updated units in mixed-use building adjacent to Davis and Furber Mills.
Davis & Furber Mills is home to over 90 operating businesses, ranging from restaurants to fitness, and from law offices to tech startups. We offer flexible spaces with brick and beam character, cutting-edge technology, and a quality of life that attracts the most desirable professionals in a highly competitive labor market. You can view our listings here or call for more information about opportunities to join our thriving campus!
Comcast, Verizon, and multiple fiber providers have the property wired, and an on-site co-location option for our tenants allows even the smallest of businesses to leverage superior bandwidth and redundancy
Active outdoor spaces abound on the campus with shady courtyards and sunny lawns, two mill ponds, and walking paths and picnic areas located on site
With 66 loft-style apartments, four restaurants, and a number of fitness and wellness options on campus, workers enjoy a true 24-7 community located within walking distance of the downtown's dynamic local businesses
Our experienced, professional management team is located on site and available on-call 24 hours a day, seven days a week
Well-located and separately-zoned parking areas, including a 600-space two-story garage, offer convenience for employees and visitors
Four rooftop solar arrays generate half a megawatt of power on site, and with electric car charging stations and high efficiency lighting and mechanicals a standard, we can support your company's green credentials
DAVIS & FURBER MILLS
21 High St
North Andover, MA 01845
RCG LLC
17 Ivaloo St Suite 100
Somerville, MA 02143